Home
|
What's New?
|
Pictures
|
Scrapbook
|
Recipes
|
Fonts
|
Our Wedding
|
Contact Info
The Green Room is painted Benjamin Moore Dill Pickle! :)
Miley and Howie's Crate Covers & Bumper Pads!
In what I can only imagine was a fit of insanity... because... I hate to sew. I know. That's bad. But I really and truly do. LOL. Every time I start a sewing project, I get in the middle of it and I SWEAR it will be the last time I ever sew! Ever!! Hah. Famous last words. But in an attempt to make
Miley and Howie's
crates more comfy, cozy, and inviting (and also match the room decor! ;)) .... I decided to make these crate covers and bumper pads for Miley and Howie's crates. :)
I used Simplicity pattern #4713 to make the bed and bumper pads, and ribbon to tie them on.
The crate covers just slip right on and off!
For the ultimate finishing touch, my friend
Heather
embroidered Miley and Howie's names on their crate covers! :)
Aww... They're looking cozier already. ;)
All the fabric, ribbon, and thread came from Hobby Lobby.
I think Miley and Howie approve. ;)
The crates just tuck right in on either end of the couch in the Green Room.
I had some extra fabric leftover, so I made a couple throw pillows for the couch to tie it all together. :)
Custom Crate Covers & Bumper Pads Instructions
I used Simplicity pattern #4713 for the bumper pads and mattresses in the crates. For the crate cover, just measure your crate and cut your fabric about 2" bigger (enough for hemming). You need 5 pieces: Front, Back, Top, Side, and other Side. Lay the top piece on the crate (wrong side up) and pin the Sides to the top piece (also wrong side up) so that they hang down in place. Make sure you leave enough room to hem the bottom, but don't do that until the very last step. Go ahead and sew the two Side pieces to the Top piece. Then repeat with the Back piece. Sew at the top and also on both sides of the Back piece. I was constantly putting the cover back on the crate in between every step to make sure it was fitting correctly. :) Next pin the Front piece at the top. Measure where you need the window for the door, then cut it out and trim it in ribbon. Sew it in place, then hem all the way around the bottom and you're done!
The Green Room Rag Quilt
I had been seeing these
super cute rag quilts
lately and have been dying to try one. I've always wanted to make a quilt (despite my glaring lack of sewing skillz) but these rag quilts looked like something I could handle. I am really *so bad* at sewing, so I always have tons of extra fabric left over from my sewing projects. lol. I checked my stash and I had some really cute patterns leftover from the crate covers and some
clothes I made for Miley
that all coordinated. I also had some fleece that I decided to use instead of traditional quilt batting. Since I had all my supplies on hand and didn't even have to go to the store, I decided to get started late one Friday night. By the end of the next day, I had this quilt! It matches the green room perfectly and I already had a quilt rack hanging there so it was just perfect. :)
This is why they call it a "rag" quilt. It really is so soft and cuddly!
I think Howie and Miley approve... :)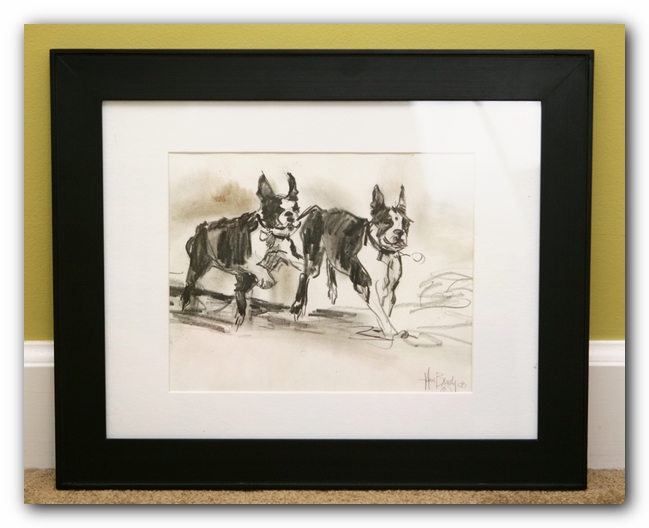 This is a lovely new addition to the Green Room that sits on top of the quilt rack... A drawing of Miley and Howie from one of my
favorite portraits
! The artist is Annie Brady and our dear friends Lori and Bill had this made for us when we
vacationed together in Pigeon Forge
. I *love* it and it goes perfectly in the green room! :)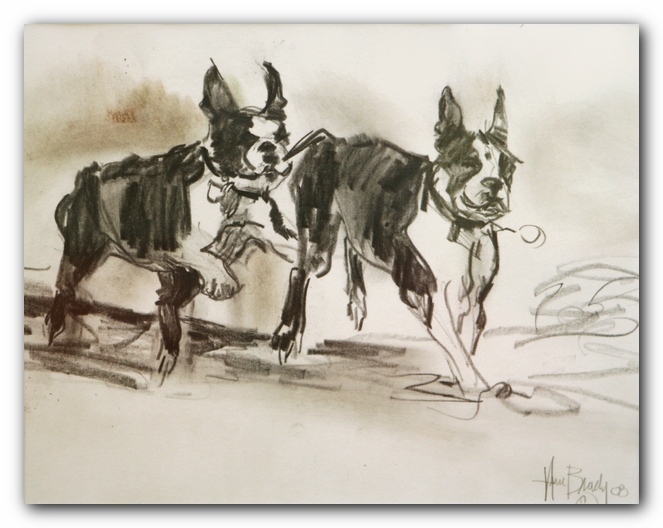 More Green Room Accents...
| | | | |
| --- | --- | --- | --- |
| | | | |
| Candleholder from Pottery Barn | Candles from Target, alphabet accents from Making Memories | My grandmother made this quilt for me when I was 15 :) | Instead of having a guestbook at our wedding that I knew we'd probably never pull out and look at, we had guests sign mats for a picture frame that we could display and see every day. :) |
| | | | |
| --- | --- | --- | --- |
| | | | |
| Curtains from Pottery Barn | Flower holders from Pottery Barn | This was my dad's childhood chest of drawers. It was dark brown, but we painted it white. :) | Mirror from Pottery Barn (I should've just named this the Pottery Barn Room, huh!) |
Home
|
What's New?
|
Pictures
|
Scrapbook
|
Recipes
|
Fonts
|
Our Wedding
|
Contact Info